Learning from a Guy with Crohn's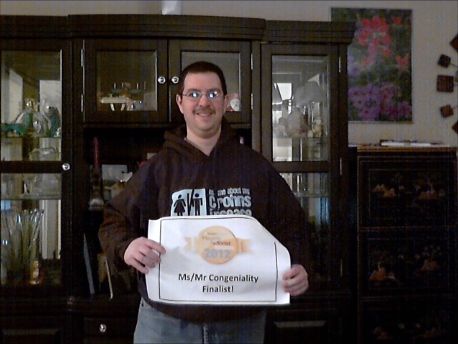 4/10/2013
"Hello. My name is Jeffrey and I am a Crohnie. Well, that is how I would imagine an introduction would go in an anonymous IBD support group. Of course, an intro like that kind of has a negative stigmatism to it because it reminds us of intro's used in AA which, even though it is a good group, you go there because of an addiction. Well, having IBD is kind of like an addiction. It is something always on our minds. We take drugs to forget the pain we are in. And no matter how much we want to forget about it, we seek out others who have the same so we can relate and fit in."
Thus starts the blog of Jeffrey LeVine when I "met" him on day 2 of the National Health Blog Post Month sponsored by wegohealth.com. The blog challenge that day was to introduce others to your health condition, and to your activism in helping others with this condition. As someone who has struggled with the harsh effects of Crohn's disease for nearly 25 years, Jeffrey knows this topic in both objective and very personal ways. His willingness to share his condition in order to support and enlighten others led him to be nominated for the "Most Congenial" blogger award.
While I do not have Inflammatory Bowel Disease myself, many of Outlook Life's clients come to us for Crohn's disease life insurance. Others are looking for life insurance while having ulcerative colitis or other gastrointestinal disorders. I am delighted and thankful that Jeffrey has allowed me to summarize his words to help educate and encourage our clients who are suffering from Crohn's disease, ulcerative colitis or other IBD subtypes.
#1. IBD is not something people can control and it is not contagious.

IBD is an auto-immune condition that, like an addiction, can be manipulated with medicine, exercise and diet, but it will ultimately act however it wants. It is the body attacking itself so there is nothing that will spread to someone else. It is a genetic disorder that needs a lot more understanding.
#2. People with IBD at times are in a lot of pain.
There are different types of disease under the IBD umbrella. They all act differently and there are different severities to them. But over time, anyone with IBD will experience pain. People with IBD get good at hiding their pain so you might not know just how much pain they are experiencing. But know, it is there.
#3. A lot of people with IBD feel alone.
They don't know anyone else with the disease and because it isn't a well-known disease, no one understands what they are going through. This led Jeffrey to turn to the internet, where he has found a global community with Crohn's Disease, Ulcerative Colitis, and other gastrointestinal conditions. He wants to let them know that They Are Not Alone.
#4. IBD is not a death sentence.
Possibly having to live with a stoma, spending months in the hospital, or just being unable to go run errands without making sure there are bathrooms along the way can make people with IBD feel like their life is over. Jeffrey has learned that people with IBD can still live a great life. IBD alone will not end a life. It will cause depression but just know, says Jeffrey, that you will live and get on with your life. Look at what you want to do with your life and try to make it happen, using baby steps. The more you focus on the good, the less you will think about the bad.
#5. IBD IS NOT YOUR FAULT!
At some point everyone with IBD asks why me, what did I do to bring this on. But this is a genetic disease. You did nothing but be born with a gene. It just chose to rear its ugly head when it did. Jeffrey has learned that instead of asking the Why Me question, he now asks what he can do to calm the beast.
Relating to people with IBD
IBD is still largely unknown to the general public and more awareness would help those who have it to not feel embarrassed about it. Be there for them. Listen to their words. If inviting them over, look at Crohn's Disease recipes for ideas. Some people with IBD need to avoid gluten, some cannot tolerate dairy, some become ill from eating fatty food. Preparing a variety of options is a good idea. If you go out, invite them to a sit down restaurant with more than fried food on the menu. Plan for frequent stops on road trips. They may not tell you if they are hurting, but your sensitivity can go a long way.
While surfing the internet Jeffrey found a number of other good blogs providing support for the IBD community. Here are some of them:
Kelly http://sickgirldiary.tumblr.com
Sara www.inflamed-and-untamed.com
Alyssa www.loveformutantguts.wordpress.com
Jackie www.bloodpooptears.com

Adam www.IhaveUC.com

Jason www.crohnsdiseasesn.com